Educational Measurement


Adapted to EU Standards

Українською
This project has been funded with support from the European Commission.
This publication reflects the views only of the authors, and the Commission cannot be held responsible for any use which may be made of the information contained therein.
News
Ordering of syllabuses of courses on specialization the "Educational Measurements " is the theme for the discussion of seminar in Kirovohrad

Posted by Ольга Авраменко (olgavr) on 13.02.2010
News >>
The visiting meeting of the Seminar of Educational Measurements took place in the Kirovohrad Pedagogical University on the physico-mathematical faculty. The representatives of higher educational establishments of Ukraine from the Consortium of performers of the Project «Educational Measurements Adapted to EU Standart» participated in the meeting.
Participants of Seminar from the Nizhyn University associate professor Yu.Kovalchuk, associate professor T.Lisova and senior teacher T.Kanivets participated in the mode of on-line by Internet connection. Professor V.Sergienko from the National Pedagogical University name of Dragomanov, visited Kirovohrad with the purpose of presentation of one of educational courses for specialization the "Educational Measurements ".
On meeting presided professor O.Avramenko The meeting was attended by other performers of the TEMPUS Project from Kirovohrad Pedagogical University: professor R.Rizhnjak, associate professors S.Parashchuk, I.Lupan, L.Lutchenko, senior teachers of V.Kotjak, N.Shevchenko.
A theme for the discussion of seminar participants was "Ordering of syllabuses of courses on specialization the "Educational Measurements "". Four lectures entered to the program of seminar
1."Presentation of the program of course "Basis of the Pedagogical Measurements and Monitoring of Quality of Education"" (professor Sergienko V.);
2."Differentiation of concepts "evaluation" and "measuring" is basis for ordering of the programs of courses of "Basis of Pedagogical Evaluation" and "Pedagogical Measurements and Monitoring of Quality of Education"" (associate professor Kovalchuk Yu.; senior teacher Kanivets Т.);
3."A purpose and maintenance of educational course "Mathematical-statistical Methods in the Pedagogical Measurements "" (professor Avramenko O.; associate professor Lisova Т.);
4."Educational course "Testing Computer Technologies " as the finishing stage of preparation of specialist of the educational measurements " (associate professor Parashchuk S.; senior teacher Kotiak V.).
The panel discussion was caused by such problems: differentiation of concepts "Evaluations" and "Measurements"; a necessity of the use of mathematical vehicle is for realization of the pedagogical measurements up-to-date; a problem of introduction of computer technologies is in preparation of specialists of the educational Measurements. The participants of the Seminar came to the consent in ordering of syllabuses of courses and they outlined further plans in relation to work within the framework of Project.
Upon completion of seminar professor V.Sergienko informed participants about the process of organization of the International conference the "Educational Measurements in Information Society", which will be hold in NPU name by Dragomanov on May, 26-29 in 2010 on TEMPUS Project.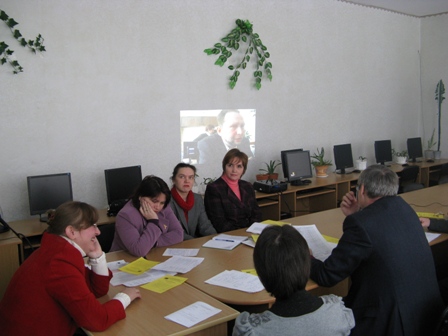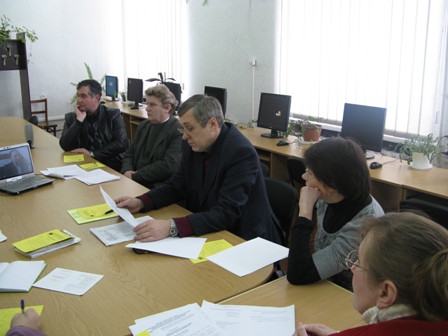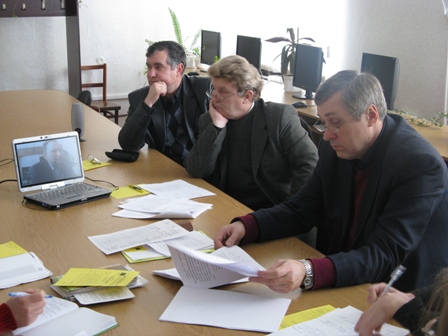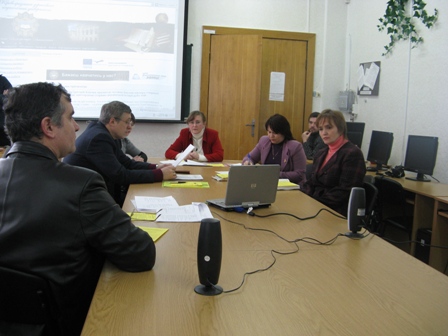 Last changed: 13.02.2010 at 14:27
Back