Educational Measurement


Adapted to EU Standards

Українською
This project has been funded with support from the European Commission.
This publication reflects the views only of the authors, and the Commission cannot be held responsible for any use which may be made of the information contained therein.
News
INTERNATIONAL SUMMER SCHOOL "EDUCATIONAL MEASUREMENTS: EDUCATION, SCIENCE AND PRACTICE"

Posted by Юрій Ковальчук (Юрій Ковальчук) on 10.07.2011
News >>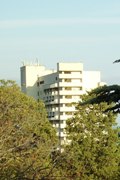 INTERNATIONAL SUMMER SCHOOL
"EDUCATIONAL MEASUREMENTS: TEACHING, RESEARCH, AND PRACTICE"
8 – 15 October 2011 in Foros (Crimea, Ukraine, http://laspi.com/en/sanat/34)

ANNOUNCEMENT

International Summer School "Educational Measurements: Teaching, Research, and Practice" will be held in Foros (Crimea, Ukraine) on 8 -15 October 2011 (8 October is the day of arrival). It will be organized in the frame of the EU Project 145029-TEMPUS-2008-SE-JPCR (http://fm.ndu.edu.ua/) by Ministry of Education and Science of Ukraine, Nizhyn State Mykola Gogol University, National Pedagogical Dragomanov University, Kirovograd State Pedagogical University named after Volodymyr Vinnichenko, Mälardalen University (Sweden), Helsinki University of Technology (Finland), University of Rome "La Sapienza" (Italy), University of Cologne (Germany) and USETI.

Main topics:
- Educational Measurements in the context of education quality improvement.
- Theoretical background of Educational Measurements.
- Leading experience of constructing and administrating of pedagogical tests.
- Problems of "Educational Measurements" teaching.
- Informational technologies in pedagogical testing.
The lectures of prominent specialists from Europe and Ukraine will be given and round tables/ seminars with presentation of short communications of participants will be organized.
School languages: Ukrainian, Russian and English.
Organizing Committee: Dmitrii Silvestrov (Västerås, Stockholm, Sweden, co-chairman), Sergij Bondarenko (Kyiv, Ukraine, co-chairman), Oleksandr Borysenko (Kyiv, Ukraine, secretary), Evelina Silvestrova (Västerås, Sweden), Yurij Kovalchuk (Nizhyn, Ukraine), Volodymyr Sergienko (Kyiv, Ukraine), Olga Avramenko (Kirovograd, Ukraine), Esko Valkeila (Helsinki, Finland), Raimondo Manca (Rome, Italy), Hanspeter Shmidli (Cologne, Germany).
Abstracts and Proceedings of the School will be published. Abstracts (Microsoft Word file, title of the communication, author(s), affiliation, text of abstract, references) have to be sent by e-mail to odb@univ.kiev.ua, yu-koval@rambler.ru up to September 15, 2011.
Deadline for applications: August 25, 2011. The short registration letter (name, affiliation, address, telephone, fax, e-mail address, title of communication) has to be send by e-mail to the addresses:
odb@univ.kiev.ua (Oleksandr Borysenko), yu-koval@rambler.ru (Yurij Kovalchuk).
Full text of announcement (.doc)
Last changed: 10.07.2011 at 12:06
Back