Educational Measurement


Adapted to EU Standards

Українською
This project has been funded with support from the European Commission.
This publication reflects the views only of the authors, and the Commission cannot be held responsible for any use which may be made of the information contained therein.
News
Dissemination the basic ideas of the project among the teachers of Kirovohrad region and Southern region of Ukraine

Posted by Ольга Авраменко (olgavr) on 22.05.2010
News >>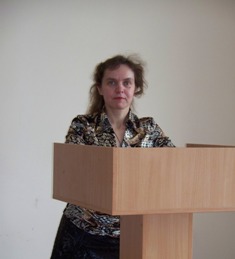 At the 20-th of May Iryna Lupan made a report "TEMPUS-project "Educational Measurement adapted to EU standards" at the regional conference "Innovative teacher education in an information society" which took place at the Alexandria Teachers College named after V.A. Sukhomlinskij (Kirovograd oblast).

This Project has the support and approval from the administration in the Kirovograd State Pedagogical University named after V.Vinnychenko. Just the Rector of KDPU Professor Gregory Klochek offered to tell about the Project in Alexandria. Gregory Klochek also spoke at the plenary session of the conference and conducted proforientation meetings with college students.
Staff of several teacher training colleges in Southern Ukraine Region and students (future teachers of elementary school) showed great interest in the report subject. Pedagogical measurement, educational tests as a tool of measurement, problems of their using and development, etc. – the issues that have not left indifferent educators.
The Project "Educational Measurement adapted to EU standards" is an opportunity for many practicing teachers to improve their teaching skills in pedagogical measurement by graduating Master degree. For the potential Pedagogical University students it's an opportunity to get qualified in Bachelor.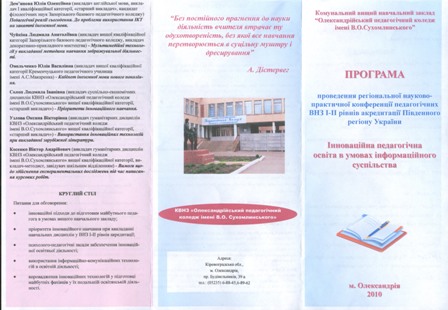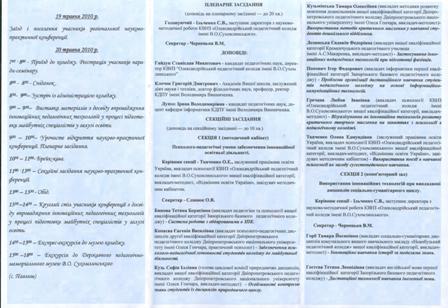 Last changed: 22.05.2010 at 18:26
Back